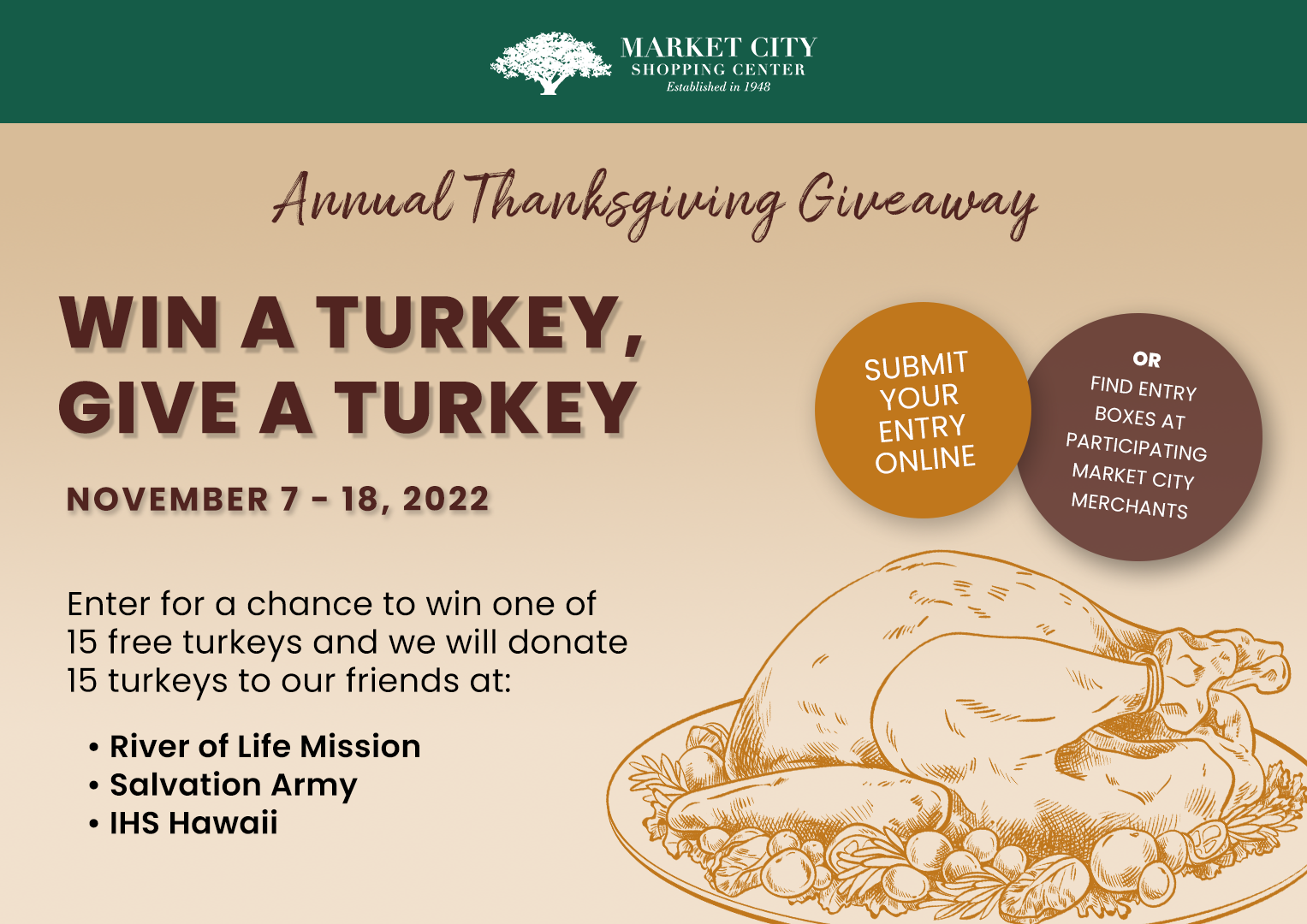 One entry per person.
No purchase or payment is required to win a prize.
Winner need not be present to win.
Individuals must be 18 years of age and over and a Hawaii resident to be eligible to enter.
Entry blanks and boxes are available at participating Market City merchants.
Official entry blanks may not be photocopied or mechanically reproduced and must be filled in completely (handwritten) and deposited in entry boxes at participating merchants at 2919 Kapiolani Blvd.
15 Winners will be selected by a random drawing to be conducted by Market City Management on November 19, 2022. Each winner will receive one 12-15.99-lb Norbest brand turkey redeemable only at Foodland Market City, while supplies last. If a 12-15.99-lb Norbest brand turkey is not available, Market City Limited and Foodland will substitute prize with a $30 Foodland Gift Card at their discretion.
Winners will be notified within 2 days after the drawing and given instructions on how to redeem their respective prizes. Winners must redeem their respective prizes before November 23, 2022.
Market City Management is not responsible for any changes in a winner's address or telephone number. The prize is forfeited if Market City Management cannot locate a winner within 2 days of the drawing or if the prize is not redeemed before November 23, 2022. If the prize is forfeited, Market City Management may conduct another drawing for that winner's prize. Market City Management's decision will be final on all matters.
Owners, employees and the immediate families of the following groups are not eligible to enter the contest: 1. Market City, Ltd. or Market City (Delaware) LLC 2. Market City Shopping Center 3. Market City Shopping Center Merchants 4. Market City Sponsors.
The Prize is not transferable. No substitutions of prize will be made. The prize must be accepted as awarded.
By submitting an entry, all applicants consent to the use of his/her name, contact information, and photographs or likeness for publicity and promotional purposes without additional compensation.
The odds or probability of winning will depend on the number of entries received.
The contest will end on November 18, 2022, at 12 MIDNIGHT.
By participating, each winner releases Market City, Ltd., Market City (Delaware) LLC, Market City Shopping Center, Market City Shopping Center Merchants and Market City Sponsors from any and all liabilities with respect to any prize. Each winner by participating acknowledges that said parties are not responsible in any manner or liable for any warranty, representation, or guarantee.